Idrogeno da rifiuti: il ruolo dei porti come futuri 'distretti green' secondo NextChem
Fonte HYDRONEWS - 12 Ottobre 2021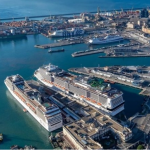 Idrogeno da rifiuti: il ruolo dei porti come futuri 'distretti green' secondo NextChem – HydroNews
Installare le tecnologie 'waste to chemical' nei principali bacini portuali nazionali per sfruttare i rifiuti prodotti in loco come materia prima da trasformare in combustibili green utili a decarbonizzare le stesse attività marittime e logistiche degli scali.
Un modello a cui guarda con interesse NextChem, società del gruppo Maire Tecnimont focalizzata sulle tecnologie per la transizione energetica, che – non a caso – è coinvolta insieme alla multi-utility Iren nello studio di fattibilità di un progetto per la produzione di idrogeno all'interno del porto di Genova.
"I porti sono dei sistemi complessi, che movimentano ogni giorno persone e merci" ha spiegato Alessandro D'Amati, Business Development Manager di NextChem, nel corso del convegno 'Green RePort: I numeri della sostenibilità dei porti Italiani', organizzato nell'ambito del Forum Compraverde Buygreen.
"I porti dell'Autorità di Sistema Portuale del Mar Ligure Occidentale (Genova, Savona e Vado Ligure; ndr) nel 2018 hanno movimentato più di 70 milioni di tonnellate di merce e 4,3 milioni di passeggeri, trasportati da oltre 9.000 navi, con un carbon footprint totale pari a 537.520 tCO2eq, di cui l'80% dovuto a navi in sosta o in manovra, il 19% a operatori portuali e l'1% a veicoli in transito". Nello stesso anno – ha aggiunto il manager – questi scali "hanno prodotto circa 15.000 metri cubi di rifiuti solidi secchi indifferenziati". Rifiuti che oggi escono dal porto e vengono conferiti a discarica o a inceneritore, ma che, "con la tecnologia 'waste to chemical' di NextChem, potrebbero rimanere nella zona portuale ed essere trasformati in biocarburanti, come idrogeno ed etanolo, che potrebbero sostituire quelli di origine fossile".
Grazie alla tecnologia messa a punto dalla società del gruppo Maire Tecnimont, i porti potrebbero quindi trasformarsi in "distretti verdi dove attuare processi di economia circolare in linea con gli obbiettivi europei inseriti nel pacchetto 'Fit for 55' e con la strategia ambientale di Bruxelles per il 2050".